May we begin by wishing you all, family and friends a really Happy Christmas and a very Happy, Healthy and Exciting New Year. We would like to take this opportunity to thank you for all your efforts over the year that have inspired and motivated so many people, both young and more advanced in age from novices to experts. This would not have been possible without the time, effort and commitment that many of you have given Adventure Dolphin during 2019. Simply inspirational stuff! Thank you.
Annual Boxing Day Morning Paddle and Social
We hope to see as many of you as possible in joining us for the Annual Boxing Day Morning Paddle and Social commencing at the centre at 10am. And 'yes' mince pies and mulled wine will be available for fortification. There is the likelihood of a walk however do bring your wellies as well as you woollies!!!

Adventure Dolphin (Pangbourne) Charity Annual General Meeting
The Adventure Dolphin Charity (AD) Annual General Meeting (AGM) will take place on Wednesday 8th January 2020. Arrive from 6.30 for light bites ready for a 7.15pm start, in the main hall at Dolphin House. We hope that you will be able to come and share and hear where we are as a Club and what we are aiming to do in the future.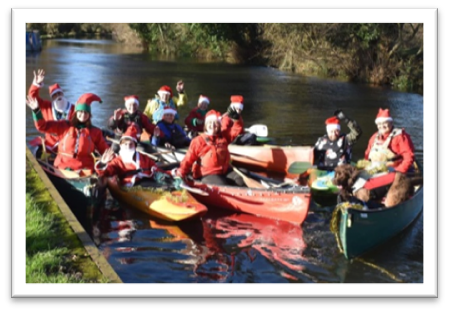 The Santa Paddle
Continuing the Christmas theme – a seasonal thank you to Donna for organising the Santa Paddle this year. We travelled from the Cunning Man public house at Burghfield to the Wokingham Waterside perplexing shoppers and revellers alike through the Oracle shopping Centre on the Kennet and Avon canal. This was the quickest way through Reading at the time!
What next for our Club's own adventure?
As we near the top of another year it is often a good time to reflect on what we have achieved as well as what lies ahead in the future. As such The Trustees have been considering the Club's future and are now seeking your help as a result of this review. They have looked at not only where we have come from as a club but where we are now and recognise that we need more Trustees and helpers to assist in club organisation as we seek to continue our next adventures. The Trustees are indebted to a small number of people who have worked tirelessly since we took over from West Berkshire Council but we now need help to manage some of the Club's functions by sharing some of these responsibilities. So do please come along to the AGM and learn how, through a little of your time, you could make a big difference to the future of Adventure Dolphin.
Wednesday Social Group (7-9pm)
Nice one Claire Hardwick for coordinating the development of 'Wednesday Socials'. These all together enjoyable informal gatherings are open to all club members and consist of a variety of informative opportunities to learn and practice in a multitude of adventurous topics. Regularly drawing upon the experience of a variety of our own ' in house' and guest expert speakers a recent night navigation evening proved to be a fun and relevant topic held during a post clock change autumn evening. Topics are already planned for 2020. All are welcome
February 19th – Let's Get Knotted – aimed at anyone needing skills in knots and all uses of ropes and lines.
March 18th – Film Night, Paddling films (Penny & Ken would be pleased to hear from you should you have any really good paddling films to include)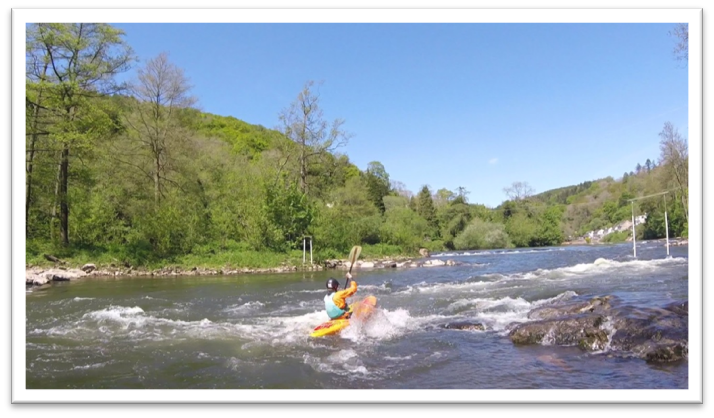 Memory Trips
2019 saw a wealth of trips being organised, and thanks go to all those who offered to lead and help on them. We have explored the Wye twice; Dart twice; Rother; Cuckmere and Barle. Future trips are planned on the River Usk, Cherwell and Lee Valley white water centre too.
A Moonlight Paddle in September organised by Claire proved to be very successful and was helped by a lucky weather break leading to clear sky, sunset and a full moon. The Symonds Yat trip, arranged by Ed during the same month saw a small (but perfectly formed!) group enjoy an excellent paddling day – white water paddling in tee shirts and shorts! Water levels low (0.8m at Monmouth). This would have been perfect for beginners so listen out for similar trips planned in 2020. Finally, the multi talented Sunday morning team of Nick and Chris have been out each week. Recently in the high water conditions they have been doing some local paddles, down river!
Racing Group
The New Year sees the Racing Group start to prepare for the Devizes – Westminster Canoe Race (DW) through the Waterside series of 4 races. We assist Newbury Canoe Club with marshalling the Waterside Race Series and you don't have to be a paddler to be involved! It is great fun! Email info@adventuredolphin if you would like to help.
This year's DW saw our club doing really well with Vicky Metcalfe and Liz Murnaghan winning the Ladies C2. Robin Tilbury and Tommy Fitzgerald came first in the Senior Junior
K2, plus our highest placed K1, women's K2 and Peter Walker joining the 1,000 mile paddlers plus some other great results, so good luck for 2020 everyone!!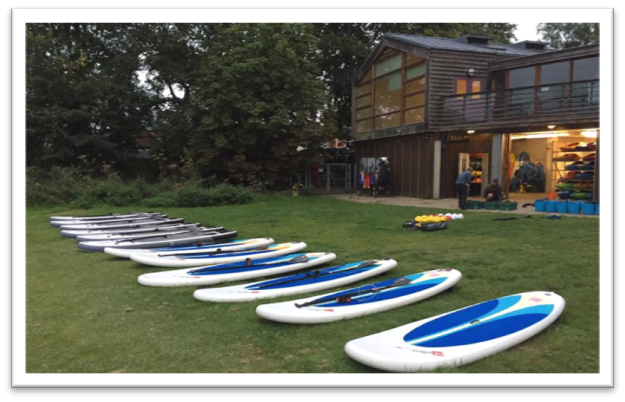 Paddlesport
The high spot of the evening paddlesport courses this summer was the introduction of the Stand up Paddleboards which proved to be a great success. In 2020 we are going to offer the three week courses staring in June when the water is warmer. Once again thanks to John Bethell and Ian Blatchley and their teams for all the hard work over the summer getting so many on the water. Tuesday saw us introducing the Scouts to paddling with a total of 760 participants overall. There were Beavers having a go in the Bell Boats; Cubs in rafted open canoes and finally Scouts having a go at Kayaking. A big thank you to all those who helped lead by Jack and Chris.
To support the above programmes Claire Hardwick has been active in organising a great many courses to help the coaches maintain and improve qualifications and skills. The SUP module was well attended. The Paddlesport Activity Assistant course was run which lead to a Paddlesport Instructor course. Safety is all important too, either safeguarding or the more active Foundation Safety and Rescue and White Water Safety and Rescue to the regular First Aid and Aquatic First Aid courses which have all taken place throughout this year. So once again, a great many thanks to all who delivered these vital sessions and kept us up to date.
Game Makers
Yes, the Olympics are once again on the horizon and so sprint and slalom paddling will have some great publicity as will, for the very first time, climbing. We will look to see how, as a club, we can build upon this opportunity. The climbing team do a tremendous job and require more help so we are looking to run an assistants course just as we have done for paddling and so, if you can belay and wouldn't mind providing a few hours to train up, your support will enable us to open the climbing wall up for additional users. Let us know through info@adventuredolphin.co.uk if you can help.
Duke of Edinburgh Awards
Can you help with Duke of Edinburgh courses? We run Bronze, Silver and Gold groups all of which need expedition training each year. This year our Gold groups canoed and camped on the Rivers Wye, Severn and the Thames with great expedition organised by one of the Gold groups to the River Dordogne in France. It just happened to coincide with the hottest temperatures ever recorded in France, a challenge of a different nature. The Bronze walking groups were local and based at Rushall Farm, Bradfield in completing their expeditions. We are pleased that most of those enrolled have now completed their Awards and are being presented with them over the next few months.
We would like all our helpers to have completed the nationally recognised Lowland Expedition Leaders Award (LEL), our next course starting in January. More details can be found on the Club website (https://adventuredolphin.co.uk/lowland-leadership-course/). Financial help may be offered to those LEL participants offering to support our DofE programme. Contact dofecoordinator@adventuredolphin.co.uk.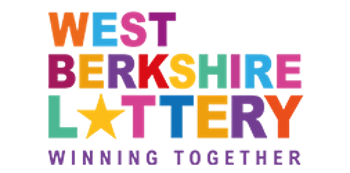 West Berkshire Lottery is an exciting weekly lottery that raises money for good causes in West Berkshire including Adventure Dolphin. Each ticket has a 1 in 50 chance to win a prize each week, with a top prize of £25,000! That's a better chance of winning than the National Lottery.
Each ticket will consist of 6 numbers and each number will be between 0 and 9. There will be a draw every Saturday night when a 6 digit winning combination will be picked. Prizes will be given to players with tickets that match the first or last 2-6 numbers from the winning combination. Match all 6 and you win the JACKPOT!
The lottery and its prizes are our way of putting the fun in fundraising. The real winners are the good causes. Tickets are available now at a cost £1 each, and for every ticket bought through the lottery Adventure Dolphin page, 50p will come straight to us.
Please spread the word among family, friends and colleagues. https://www.westberkshirelottery.co.uk/support/adventure-dolphin/buytickets
Save the dates
And finally, the Seneschal have been working hard and have put together the dates for next season. Whilst full schedule of 2020 activities and events will be published in early January please find for your information early notice of what is planned during the first two months of the 2020.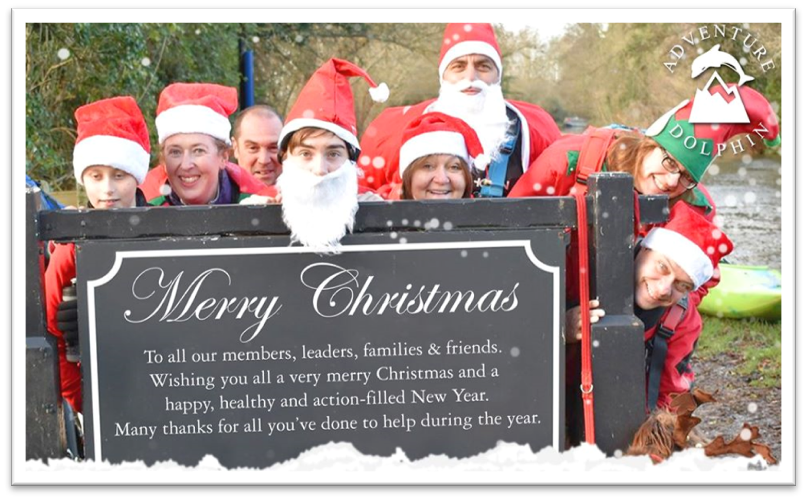 Forthcoming dates for the diary:
Thursday 26th December Boxing Day morning paddle & social. Meet at 10am
Sunday 29th December No session
Sunday 5th January New Year Paddle on the Cherwell
Monday 6th January D of E Presentations & Leaders meeting
Wednesday 8th January Adventure Dolphin AGM. Invite to all members. Meet from 6.30pm for 7.15pm. Light refreshments will be available
Wednesday 15th January        Safeguarding Course(Level 1) in Henley
Thursday 16th January Seneschal meeting 7pm
Sunday 19th January                Aquatic First Aid in Henley
Monday 27th January Trips planning 7pm
Sunday 2nd February River Usk white water paddle
Sunday 9th February Leaders Day, 11.30am – 4.30pm – All leaders
Sunday 16th February First of the Waterside Race series