Newsletter April 2019 Adventure Dolphin Race Group -Pangbourne Canoe Club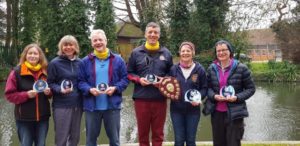 Waterside Series Trophy winners: Fay, Caroline, James, Peter, Vicky and Liz
The alarm went off at 3.30am on Sunday. Why am I getting up in the middle of the night? Well it's obvious – Waterside D – 34 miles on the Kennet and Avon Canal with a one hour forty-minute drive and a 7.15 start! This was the last in the series of Waterside Races, the classic build-up to the 125 mile Devizes to Westminster.
In the last month the remaining two Waterside Races took place:
Race C Pewsey to Newbury 23 miles and 35 portages
Race D Devizes to Newbury 34 miles and 35 portages.
The times for all four races (A, B, C and D) are totaled to get a series result. Pangbourne had some brilliant results:
Vicky M and partner Liz (B3C) took the Ladies C2 Trophy.
Fay B and Caroline W were second in Ladies K2.
Peter W and James B were third in the Canadian Doubles.
These series results represent a tremendous effort over four races, 87 miles and 110 portages so well done to our medal winners and everyone else who raced, marshalled, checked paddlers in, served up food, supported (i.e. fed paddlers as they ran through portages) and helped in ways too many to mention. Thanks to the Race Organiser, Clive Williams, and his team from Newbury Canoe Club for hosting the race, to the Adventure Dolphin team who played a key role in making the series happen and to Marsport (Craig Hill) for sponsorship.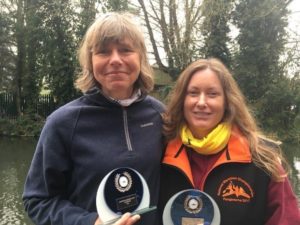 Caroline and Fay K2 Ladies 2nd place
In Series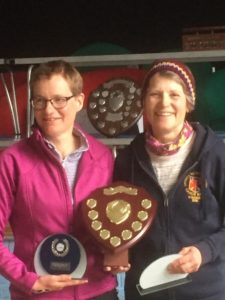 Liz and Vicky – Ladies C2 Canadian Doubles Series winners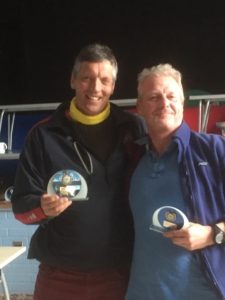 Peter and James 3rd Place in Series – Canadian Doubles
For those who like the stats, the Pangbourne results for races C and D are given below:
Race C
Matt W + Richard W (BSP) K2 Senior 3:33:16 14/35
Fay B and Caroline W K2 Ladies 4:07:02 6/10
David C and Jonathan C K2 Veterans 4:13:38 20/27
Robin T and Tommy F K2 Junior/Vet 3:42:50 3/8
Simon TC K1 Senior 3:38:56 10/16
Steve M Vet K1 4:15:50 14/20
Vicky M and Liz (B3C) C2 4:06:49 6/18
Peter W and James B C2 4:11:37 8/18
Race D
Fay B and Caroline W K2 Ladies 6:37:24 2/4
Tommy F and Robin T K2 Junior/Vet retired
Simon TC K1 Senior retired
Steve M K1 Vet 6:59:30 6/9
James B and Peter W Canadian Doubles 6:36:24 4/10
Vicky M and Liz (B3C) Canadian Doubles 6:50:50 7/10
Leamington Spa Hasler
The Leamington Spa Hasler clashed with Waterside D on 7th April. The only Pangbourne entry was Jarvis M who raced in division 2 K2 with his brother Conor. They won the race in 01:34:25 and were the only Div. 2 paddlers – a lonely 12 miles! Well done on completing the course.
Devizes to Westminster International Canoe Race
Vicky and Liz win the Ladies C2 class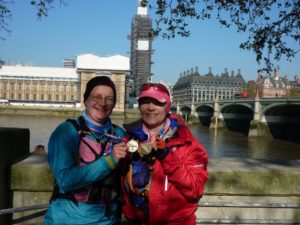 Liz and Vicky winners of the ladies C2 class. Fastest ladies crew and second fastest ladies crew of all time
Enter your text here…Vicky M and Liz M completed the course in 25:01:14 in C2 winning the ladies C2 class, taking a massive 1.5 hours off their 2015 time. They were the fastest ladies crew in a C2 and the second fastest ladies crew of all time. This is the third time that Vicky has won this trophy
Gold for Tommy and Robin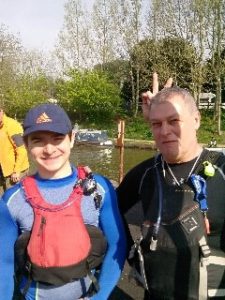 Tommy and Robin – Junior/Veteran winners
​Tommy F and Robin TC won Gold in the Devizes to Westminster Junior/Vet category over 4 days. They won in a time of 19:06:04 with a lead of over an hour. Huge congratulations to you both on a consistent effort not only over the four days but also all the training it took to get there
Simon TC came 6th in the Senior Singles over 4 days in a time of 19:05:10. This was an amazing result in a field of over 40, particularly as this is his first year as a senior.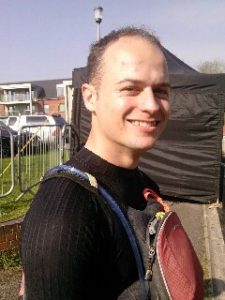 Simon TC – 6th in Senior Singles over 4 days
Peter and James, with Caroline at the finish
Straight through race.
​All other crews competed in the Senior Double (straight through race).
Peter W and James B completed in 24h 24 min, coming third in the Canadian category. This was Peter's 8th DW meaning he joins the list of thousand milers. It was James' first complete DW, having unfinished business when the race was stopped at Dreadnought Reach last year due to strong flow on the Thames.
Fay B and Caroline W completed in 24h 40 min in what Caroline describes as "a wonderful cruise from Devizes to Westminster". This was their first complete DW, again, as they were stopped last year at Dreadnought Reach
​Not everyone made it. Our two newest members Jonathan C and David C made it to Shepperton but had two capsizes during the night and retired with exhaustion. David has been paddling for less than a year and Jonathan not much longer, so they did brilliantly to get this far. Congratulations to you both – they will be back next year!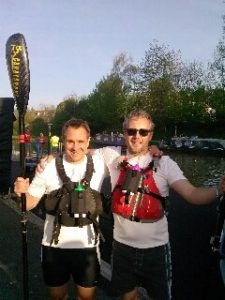 Jonathan and David – back next year!
Sarah and Steve
Steve (me) and Sarah made it to Teddington, but we just missed the tide window. I was ill and taken in a vehicle with flashing blue lights to hospital where they pumped saline into me, and I now feel much better.
Overall the club got some wonderful results competing in an International event against much larger clubs some with GB team members with the support of National coaches.
The DW could not have taken place without the huge team of supporters; the people who marshalled, with such good humour and a helpful attitude and all the family and friends who suffered lack of sleep and hot sunshine followed by a cold night. All the competitors extend a huge 'thanks'.
Background to the DW
The race is held annually over the Easter weekend. It is considered to be one of the world's toughest endurance challenges. Starting at Devizes wharf, the route follows the Kennet and Avon canal for 54 miles to Reading, where it joins the Thames. Another 54 miles later it reaches Teddington Lock, ending 17 miles later at Westminster Bridge – a total of 125 miles.
Personalities to own a DW medal are former leader of the Liberal Democrats, Paddy Ashdown, explorer Sir Ranulph Fiennes, TV Presenter Steve Backshall, Olympic gold medalist rowers James Cracknell and Helen Glover, and the first British woman to climb Everest Rebecca Stephens. Amongst famous athletes to pull out of the race is five-time Olympic rowing champion Sir Steve Redgrave who, in 2012, pulled out after 87 miles through tiredness.