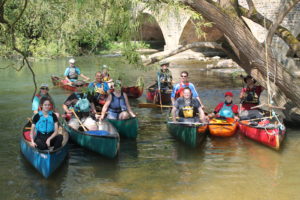 Wow, what an epic paddle. It seemed to have a bit of everything that a flatwater tour could ask for. River, canal, backwaters, tiny streams, urban, rural, herds of free ranging cows and horses on Port Meadow, picnickers on the banks, cyclists, walkers, over trees, under trees, even through trees!
Once again an AD paddle enjoyed blue skies. The start was at Wolvercote Car Park at the north end of Port Meadow, north of Oxford city. A lovely get-on next to a stone bridge and the first boat on had Tenzing in it. This was an attempt to stop him jumping in and out of everyone else's boat as they were getting on. He still jumped in and out except it was the same boat very time meaning that more and more water was entering the boat via his coat. About five minutes after starting the trip we had to stop to bail out – 18 bails!
So, down the river to Tumbling Bay the site of the old outdoor swimming which is now full of reeds. A portage and then down Bulstake Stream, a backwater of the Thames. Narrow? No, not as much as Hinksey Stream which we took to reach our lunch stop at The Fishes in North Hinksey. Of course, it meant the saw had to come out again. Third consecutive trip!
Making our way back through the narrow up, over and through section we re-entered the Thames to paddle down to the mouth of Castle Mill Stream. This is the original route of the Thames going through the city centre and right up close to the Castle. Yet more branches but this time we realised that a pruning saw was going to be insufficient as a massive tree had come down across the stream. Team work portaging took us past this obstruction only to be faced with a ridiculously low bridge. Almost lying down in the boat to get through and then we saw the next obstruction. Lock gates and a climb up a two metre plus wall. A paddlers sling was set up as a stirrup and for some of us a bit of pushing and pulling from helpful hands and we were up.
The final leg took us through the City of Oxford joining the Oxford Canal and paddling back to Wolvercote via an ice cream van! Some more portages and narrow streams took us back to our start point. The circuit completed and at no point paddling against the current!
All agreed it was a fantastic trip. Donna summed it up as: Just wanted to say thank you for a super day out yesterday. The Hatchett clan really enjoyed the day and the fantastic company. On a personal note – this time last year I would never have thought that I would be willing or able to wade through backwaters, limbo under fallen trees, scramble up steep river banks, clamber across unmanned narrow boats, shimmy up canal walls with use of a sling, navigate the underside of a very low lying bridge arch, talk to complete strangers with a passion about paddling while sounding reasonably convincing that I know what I'm talking about, or enter a pub in wet gear with a very muddy backside……all in a day trip for an AD member ah. Epic!