The Sun Shines on Pangbourne!
Sunday 9th September – a date to be remembered for members of Adventure Dolphin: we held our annual Hasler race based at The Centre.  In recent years the race was based at Home Farm but this year it returned to the Centre.
First, a big Thank You to all the helpers both on and off the water, without whom the event could not have taken place.  The races were marshalled very efficiently which made the "on the water" side run smoothly and everything from car parking to catering went well "on the land".  With over 300 competitors it was a big undertaking and its success was a real endorsement for the charity.  There was a wonderful atmosphere and Georgie kept everyone entertained with her commentary and eclectic musical taste.
This was the first race in the 2018-19 series and for the first time there was an extra race – division ten, an Open race (i.e. in any craft) of 4 miles for under twelve paddlers who want to race a longer course than the Lightnings.  Races are held over 4 miles (divisions 7-10), 8miles (divisions 4 to 6) and 12 miles (divisions 1-3).  In division 9 singles Nick A came sixth and was promoted to division eight and Daisy was our top junior performer coming tenth out of 30 in a strong field where the top seven paddlers were promoted. Chris R and Hazel B also paddled well, Ruth S did her first ever K1 race and Mike H his first ever race.
In division eight Ian P paddled hard to gain fifth place just 17 seconds short of promotion.
In division five singles Gavin L came in the top half and Stuart Q, racing for the first time in many years gained a podium place (third), proving that paddling is like riding a bicycle – you don't forget.
In division three singles – a twelve-mile race – Conor M managed eleventh and Jarvis M fourth.  These are good results considering the quality of the competition.
In the doubles races Peter W and James B were second in division eight C2 resulting in promotion to division seven despite hitting a tree at the island.  In division five Fay B & Caroline W and Steve M & Paul A came tenth and eighth respectively with close times, similarly in division four Tommy F & Robin T were eighth pipped by Owen B & Mark W in seventh place.
In the Junior race Jensen M was second in K1 and first in K2; Amy G was third in K1 and third in K2. She was buzzing as she got off the water from the K2 race as she only entered at the last minute and was not expecting such a good result.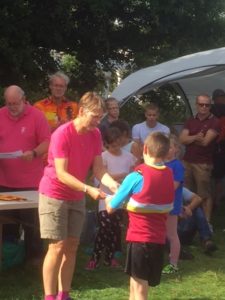 Jensen receives his certificate from Vicky
Regional Standing 2017-18 season
The Hasler season runs from 1st September to 31st August each year.   In the 2017-18 season Pangbourne Canoe Club were 7th with 36 points.  Only the first five clubs qualify for the Hasler finals, so we didn't make it.  Realistically, we need to increase number of paddlers to qualify.  In the Geoff Sanders Trophy competition for Lightnings we scored 73 points with a team of only two: the winners, Leighton Buzzard, scored 570 points with a team of eleven.  Again, simply by increasing numbers we can gain more points.
Regional Standing 2018-19 season
Club points after the first race (Pangbourne Hasler) in the 2018-19 season put Pangbourne Canoe Club in 6th place – can we go one better and get into the Hasler finals this year?
The next Hasler race is Henley on 16th September then Banbury on 28th October.  After this there are some longer races including the Ross Warland Memorial Relay Canal Challenge, Basingstoke Charles Hicks Canal Challenge and the Frank Luzmore Memorial Race all around 12 to 20 miles taking us into the winter season. Then it's the Watersides, Thamesides and Devizes to Westminster Race.
If you would like to try your hand at racing, please email one of the race coaches and we can arrange a time for you to have a go.