Happy New Year
A Happy New Year to all paddlers! The race group celebrated the festive season with a post paddle feast and presentation of the Senior and Junior Lynn Francis Club Trophies. This year the senior trophy was awarded to Hazel B for her helpfulness with the Club and determination in the boat. Hazel did the intro to race boats evening course in summer 2017 and raced with her son in the Nationals in 2018. The junior trophy was awarded to Daisy for her consistent effort in both marathon and sprints and moving up to a Cougar from a beginner's boat.
Frank Luzmore Race
On 6th January we competed in the Frank Luzmore Race. This was a 20.5 km race with three portages. About 150 boats K2s and C2s took part. The weather was fine, and the flow slow compared to recent years, so no records were broken. The fastest boar on the water was the Chelmsford crew of Keith Moule and Matthew Johnson who completed the race in 1:25.13 in an exciting finish with Matthew Bowley (BPR) and Tim Pendle (NOR) only three seconds behind them.
The fastest Pangbourne paddler was Jarvis M who completed the U18 men's in 1:40.25 paddling with a partner from Devizes. James B and Peter W had a solid performance in their C2 missing the third-place podium for Senior Mixed B by 30s. Fay B and Caroline W had an impressive race breaking the 2-hour barrier by three seconds. Vicky M and Liz from Basingstoke had an interesting start with boats colliding, but their skilled paddling kept them afloat.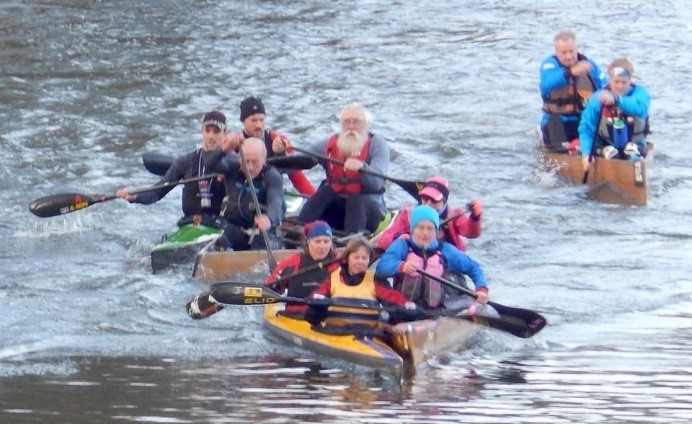 They were the top all female C2 crew, also beating the 2-hour barrier. Steve M and Paul A came in in 1:53.18. I spotted a seal in the water just after Teddington but cannot claim that this slowed me down.
Charles Hicks Canal Challenge
The next race is the Charles Hicks Challenge at Mytchett, home of Basingstoke Canal Canoe Club on Saturday 26th January. 13 miles and 10 portages.
Watersides and Devizes to Westminster
If you are not competing and are willing to help, marshals are needed for the Waterside Series (contact Bill Whittaker) and Devizes to Westminster, particularly the Bruce Tunnel (contact Adrian Wheeler). Any help gratefully received.