New Junior Record for Jarvis at Ross Warland
The main event since the last newsletter was the Ross Warland Memorial Challenge – a 20-mile race starting and finishing at Banbury Canoe Club. Our thanks to Banbury for hosting this.  Congratulations to all who took part, paddling this not insignificant distance in either K1, K2 or C2 is not for the faint hearted.  In all, there were 175 paddlers in 107 boats (K1, K2, C1 and C2).  Jarvis M paddling K2 with a Reading paddler broke the Junior Record in a time of 02:47.39. –  the highest of fives to you Jarvis!
Also, boldly going where no paddlers has gone before, Vicky M with Liz from Basingstoke Canal Canoe Club, were the fastest C2 (double canoe) on the water completing the 20 miles in 3:37.01, more than 10 minutes ahead of the next C2 to finish.  This may be the fastest C2 time in the history of the race, we are fairly sure it is the fastest for two female paddlers.
The crews of Robin T/Tommy F and Steve M/Paul A put in a good performance in K2 finishing in sub 3hours 30minute times.  Caroline W/Fay B were not far behind in a very respectable 3:40.42.  Peter W/James B paddling C2 beat their target time of 4 hours. Jonathan C/David C competed in their first long distance race (in fact, their first race).  They had a good first ten miles plus but towards the latter part of the race they capsized on more than one occasion: this would have been end of sports for a lesser crew but they just got back in the boat and finished the race.  Well done gentlemen!
Other Races
The Stour Descent due to take place in December was cancelled due to high water so we did not take part. Vicky M/Liz M raced in the last Thames 10K series race (The Royal) and were the only C2 on the course – these ladies are really taking their DW training seriously. This was supposed to be a 10K race, but it was more like 14K.
Winter Paddling Safety First
Now that the cold weather is beginning to hit, we need to remember to wrap up warm.  Wear layers – you can take them off if you're too hot but if you go for a swim and don't have appropriate kit you are putting yourself at risk.  Pogies, beany hats, a cag, spray-deck and buoyancy aid etc could save you from hypothermia.  If paddling in the dark you must have a white light showing front and back (technically through 360 degrees).  This is more so that you can be seen than to see.  Wear bright clothing with reflective/luminous strips, again to be visible.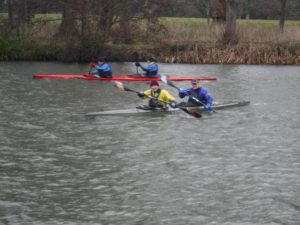 Correct kit!  Steve and Paul and Ian and Tim paddling in conditions where most people would not consider leaving the comfort of their bed, never mind going paddling.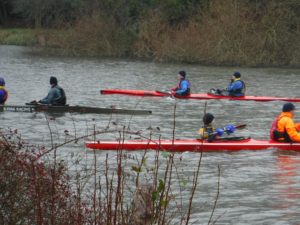 Jensen pushes Peter along in a K2. Ian and Robin in the background – all suitably wrapped up!
Coming Events
Our next race is the Frank Luzmore Memorial Marathon: 20.5 km, 3 portages over boat rollers or locks between Elmbridge and Richmond on Sunday 6th January 2019.  We look forward to a good turnout for this as its good preparation for DW.
The dates for the 2019 Waterside Series of races are: –
| | | | | |
| --- | --- | --- | --- | --- |
| Race A | 24 February 2019 | Great Bedwyn to Newbury | 13.5 miles | 21 portages |
| Race B | 10th March 2019 | Newbury to Aldermaston & Back | 17.5 miles | 19 portages |
| Race C | 24th March 2019 | Pewsey to Newbury | 23 miles | 35 portages |
| Race D | 7th April 2019 | Devizes to Newbury | 34 miles | 35 portages |
The dates for the 2019 Thameside series are
| | |
| --- | --- |
| 3-Mar-2019 | Thameside 1 Aldermaston to Reading, 12 miles, 12 portages |
| 17-Mar-2019 | Thameside 2 Reading to Marlow, 19 miles, 8 portages |
This year we have several crews training for the Devizes to Westminster Race over the Easter weekend.  All the above races are good preparation for this.
Review of the Year
With the Charity taking over The Centre from West Berkshire the summer courses were very important. We had the paddle machines out at the Come and Try sessions and some racing boats which gave people the opportunity to experience life in a fast boat. We also ran two Introduction to Race Paddling courses on Thursday evenings.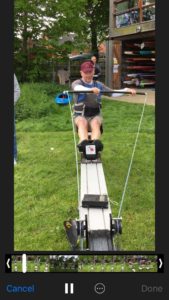 Come and try
On the actual racing front the year got off to a good start in January with Peter W and James B winning the Senior Men's C Class in the Frank Luzmore Memorial Marathon in 1:43.32.  James was promoted to division 5 based on this result.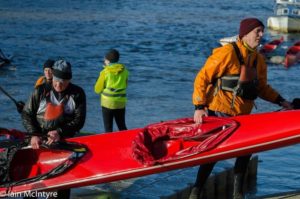 Peter and James on the Frank Luzmore Race: 30 stone helped with the momentum into the wind.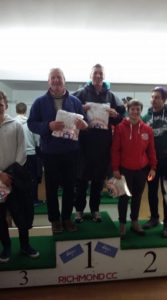 …and the victors receive their tee shirts
The summer provided excellent weather for paddling and The National Championships at Reading in July was a fabulous event right on our doorstep.  The top result was gold for Vicky M in the VLK1 – we have a National champion in our midst!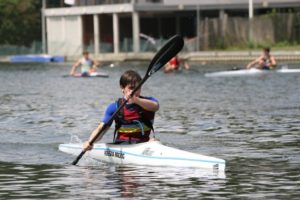 Tommy at the Nationals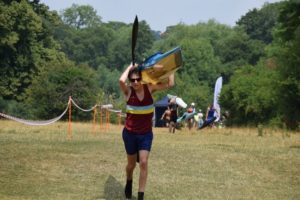 Owen sprints through the portage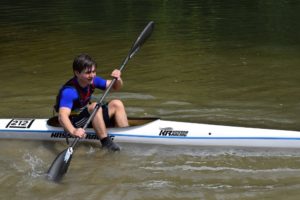 Tommy -Nationals beach portage – a quick exit.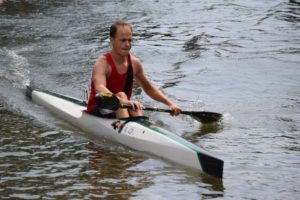 2Simon (racing for Fowey!) coming into portage
The Watersides and Devizes to Westminster Race were affected severely by the weather: Watersides C and D being cancelled and the DW stopping at Dreadnought Reach. With a late Easter we can hope for better weather in 2019. All our crews were disappointed to stop early after spending months preparing for the event. However, they will be back for Devizes to Westminster 2019.
Travels further afield
This year Vicky M and Liz from Basingstoke Canal Canoe Club travelled to France to compete in the Dordogne Integralle, an 80-mile canoe race through some interesting water and beautiful scenery.
Peter W travelled to Cornwall to compete in the Fowey Hasler, coming fifth in div 4 K1 in 1:13.02.
Sprints
The Club was represented at Nottingham Sprint Regattas in July and September. Nottingham is arguably the "home" of sprint racing and these are national championships so there was strong competition from clubs nationwide.  Daisy, Jensen and Rees competed as juniors.  For Jensen and Rees this was their first experience of sprints.  Our main sprint paddlers, in no particular order, are Simon TC, Owen B, Conor M, Tommy F, Mark W, Matt W, Robin T.
The main events are run over 200m, 500m and 1000m so distances are short compared to marathon where the shortest race is normally about 6.4km.  The best results were Conor M and Simon TC winning Bronze medals in the Men's under 23 1000m K2 in 4 m 28.87 s and Matt W paddling with a Bishop Stortford paddler taking Bronze in the Men's Open K2 200m final in 43.85s. Fantastic results in a National Event!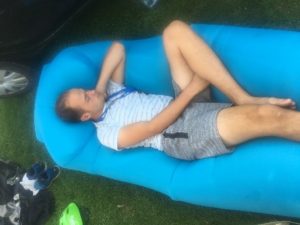 Simon having a well-deserved snooze after winning his Bronze medal
Daisy and Jensen (left) at sprint regatta
Hasler Series 2017-18
Peter W produced a summary and analysis of 2017-18 Hasler Series Results (thanks, Peter).  This shows that we have had a good year with 36 paddlers entering Hasler races during the season.  We didn't make it to the finals but there is always next year! Top of the points scoreboard were Jensen M and Owen B.  Owen was promoted from division 6 to division 4 and Tommy to division 5 over the course of the season (he is now in division 4, promoted at the Nationals), so our younger paddlers are doing well.  We have some good paddlers but are keen to increase numbers so if you are interested in having a go in a racing boat contact one of the race coaches – if you choose to wait until the summer months that is probably quite sensible!
Highlight
With so much happening it is difficult to choose just one event, but for me the highlight of 2018 was our own Hasler race in September, back at Pangbourne for the first time in a few years.  So many members of Adventure Dolphin from all paddling disciplines, not just the Race Group, pulled together to run an enjoyable and efficiently managed event which raised the profile of Adventure Dolphin within the local community and with British Canoeing. Thanks again to all those who volunteered.