Volunteers will be providing evening paddling courses again in the spring with the first set of courses staring on Wednesday 4th and Thursday 5th May will follow the previous format of a 90 minute coached session each week for four weeks.
In addition, we hope to arrange a number of one off "taster sessions" through the year for those unable to commit to a whole course.
The courses will be for beginners, improvers and for intermediate paddlers in both kayaks and canoes (sometimes known as Canadian canoes or open canoes). We have a variety of craft including sea kayaks, "sit on top" kayaks and a few new "stand up paddleboards".
In the past we have based our coaching on the British Canoeing Paddlesport Awards. From 2nd January 2019, these awards changed to the "Paddle Awards" and "Personal Performance Awards".
The 2022 courses will be as follows: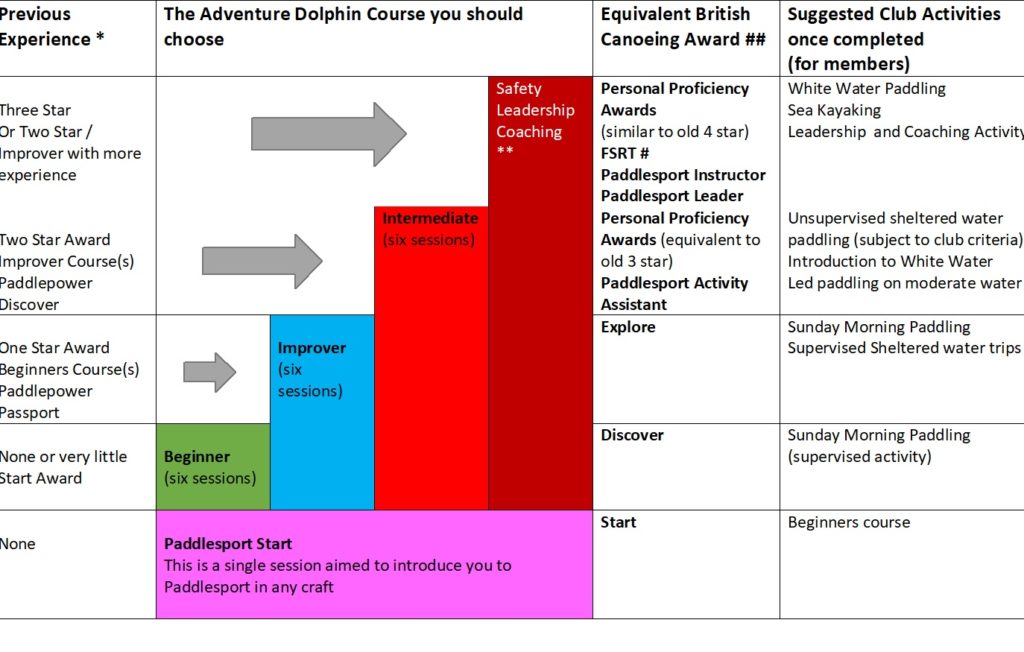 * People progress through the courses at different rates and will often need to attend 2-3 improver/intermediate courses before being ready to progress to the next stage. Becoming a club member gives you access to additional opportunities to practice and participate in paddling events or trips.
Some participants have tried Kayaking and then decide to change to Canoe. It is better to drop at least one level, or start in a beginner's course, when transferring to another craft.
** Paddlers with sufficient experience may wish to consider further training to develop their skills. This can include more tailored skills development, safety, leadership or coaching skills development.
# FSRT – This is The British Canoeing Foundation Safety and Rescue Training. This is a pre-requisite course for entry into the leadership and coaching awards. It is also recommended for anyone wishing to paddle in groups independent of having a qualified leader or coach.
## All of our courses will develop your skills and provide an opportunity to learn about all aspects of Paddlesport. The British Canoeing Awards have been changed in the last few years. The Star Awards and Paddle Power Awards have been discontinued (although your qualification remains valid) and now alternative syllabus are available. The club are able to provide assessments for these awards, but cannot manage this during the evening courses. Please watch our noticeboard website for information on "Assessment Days". These are most likely to run on Sunday mornings or afternoons.
Click the links below for courses