Pangbourne Canoe Club welcomes new members with an interest in competitive paddle sport.
Beginners: Our introductory sessions for juniors and adults are designed to teach you the main techniques and give you confidence in the boat. We have coaches dedicated specifically to beginner training who will guide and support you as you make your first strokes in a racing kayak or canoe through to a becoming a competitive racer or social paddler.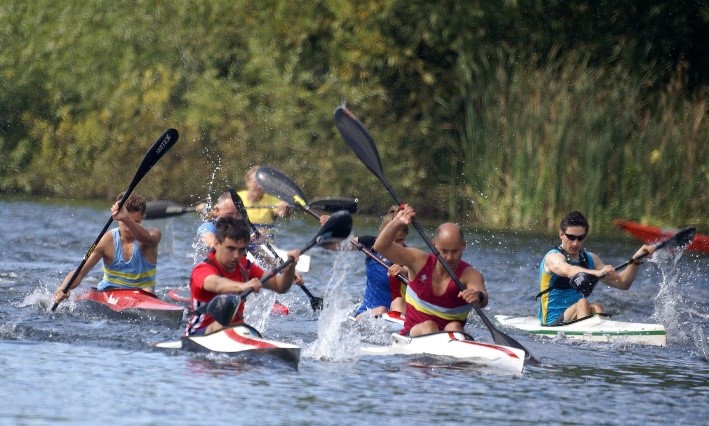 These sessions take place on Saturdays from 10:45-12:00am from April to September. The cost is £10 for adults and £5 for juniors, and is free for AD Members (just let Vicky know you are coming!)..
To book your place please visit Racing Skills 2021
Following 4 of these sessions, if you want to take up canoeing as a sport, you can join the club and initially paddle regularly on Saturdays with a beginners group and gain the other benefits of being a full Adventure Dolphin member. As your paddling confidence and capability improves there are other training sessions throughout the week you can join.
Experienced paddlers: We welcome intermediate and experienced paddlers to attend a 'come and try us' session on Saturday morning's (10:45am) between April and September. Simply come out for a training session with us and see if you like it (no charge, no obligation). If after a few sessions you like the environment we would welcome you joining the club and taking part in all the sessions we run during the week and join the racing squad. We take part in regional Hasler events (and run our own annual marathon from the club) as well as other races such as the Devizes to Westminster race and national marathon championships.
Please contact us on email vicky.metcalfe@adventuredolphin.co.uk to let us know you are coming on a Saturday and ring Vicky on 07752 888309 if you have any questions.
FAQs
Are there any fitness pre-requisites?
Yes, we would like you to be able to swim at least 50 metres in light clothing should you capsize (and most people do at some time ?). We provide buoyancy aids, which we require you to wear when on the water. Additionally, all club boats have enough buoyancy to support you.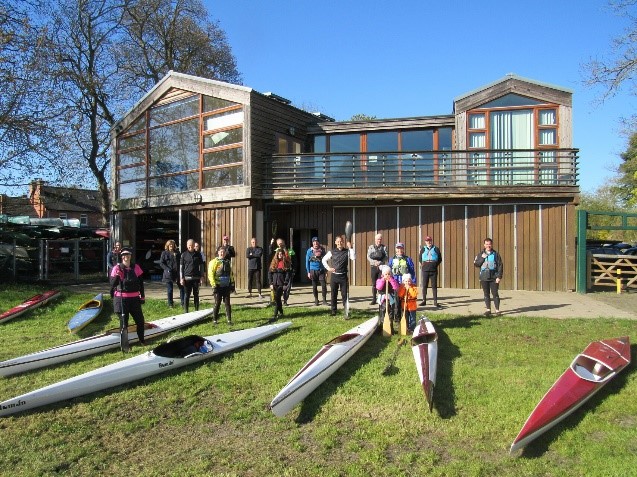 What should I wear?
For the majority of conditions, layers of light, fitted clothing that will dry quickly when wet are most suitable. Thermals and running clothes are ideal. Clothing that gets heavy when wet, like jeans and woollens, are unsuitable. No hoodies. Wetsuits are not necessary. Do not bring valuables – there are no lockers available.
Beginners should bring:
Thin, quick drying shorts or leggings.
Thin quick drying T-shirts and long-sleeve tops.
Cagoule or other thin wind/waterproof top.
Cap/sunglasses (inexpensive!)
Aqua shoes, wetsuit socks or similar soft soled shoes (NOT trainers or crocs).
A change of clothes and footwear (you will get wet), a towel and shower kit.
Any cuts/wounds should be covered with a waterproof plaster whenever possible.
Are there any showers at the club?
Yes. We advise you to shower after each session and before you take any food or drink. It also warms you up after a session in cold weather! Although generally clean, the river may have some sand and mud. Although extremely rare there are waterborne bacteria (e.g., Leptospirosis) which again make showering after contact with the water or the muddy banks sensible.
What does the initial 4-6 weeks introduction cover?
We will cover safety, rules of the river, how to paddle a single kayak (K1), emptying and rescue techniques (most people fall in at some point), boat fitting, steering and teach efficient paddling technique. We will also paddle crew boats (K2's).
Note this is a guide – the actual content may vary based on ability and the weather.
What is the minimum age?
We take juniors from age 10, and adults to any age.
Covid-19 impact
We comply with all government regulations and British canoeing guidelines. This could mean sessions could be cancelled, changed or additional restrictions applied. Any updates will be communicated with all members in a timely manner.
Where?
Pangbourne Canoe Club is part of the Adventure Dolphin activities centre based at the Dolphin Centre in Pangbourne. RG8 7DA. Please park in the main public car park if you are attending a beginner's session. (Once a member you will also be able to utilise the private parking spaces). We are very fortunate to be located in one of the best areas for canoeing on the Thames.
Other key points:
Please complete and print the medical & consent form (and Covid form) below and bring it with you on your first visit.
You can apply to become a full member (Membership – Adventure Dolphin) and join the Saturday morning sessions and other group sessions where you can improve your paddling skills. Being a club member gives you additional benefits such as access to the club building and the borrowing of club boats for training sessions.
We are a friendly and social club, this along with eating cake, is as much part of being a member as going fast .
Please contact us on email vicky.metcalfe@adventuredolphin.co.uk to let us know you are coming on a Saturday and ring Vicky on 07752 888309 if you have any questions.